Drink - Lemon Soda (Num Ma Now)
Ingredients:
3 Lemons
500 ml Soda Water (Fizzy Mineral Water)
200 ml Water
150 gms Sugar
200 gms Ice
Directions:
1. Boil the water with sugar until it has completely dissolved, then leave it to cool. This is your sweetening syrup.
2. Squeeze the lemons to get juice.
3. Then mix the syrup with lemon juice, soda-water and stir it together. Add the syrup slowly to adjust the sweetness to your own tastes.
4. Put ice it to the glass and pour the lemon soda over it, its nice to present with slices of lemon and orange in it.
This drink is delicious and refreshing, it's not too complicated, and can be had at anytime, it's definitely something the whole family would enjoy to drink. :)
Main Meal - Curried Coconut Chicken
Ingredients:
2 pounds boneless skinless chicken breasts, cut into 1/2-inch chunks
1 teaspoon salt and pepper, or to taste
1 1/2 tablespoons vegetable oil
2 tablespoons curry powder
1/2 onion, thinly sliced
2 cloves garlic, crushed
1 (14 ounce) can coconut milk
1 (14.5 ounce) can stewed, diced tomatoes
1 (8 ounce) can tomato sauce
3 tablespoons sugar
Directions:
1. Season chicken pieces with salt and pepper.
2. Heat oil and curry powder in a large skillet over medium-high heat for two minutes. Stir in onions and garlic, and cook 1 minute more. Add chicken, tossing lightly to coat with curry oil. Reduce heat to medium, and cook for 7 to 10 minutes, or until chicken is no longer pink in center and juices run clear.
3. Pour coconut milk, tomatoes, tomato sauce, and sugar into the pan, and stir to combine. Cover and simmer, stirring occasionally, approximately 30 to 40 minutes
If you like curried chicken, this recipe will drop you into bliss. It has the right amount of flavour, and it's texture is great. You can modify this recipe with practically anything, to make it your own, by adding cauliflower, carrots, zucchini, or nearly anything else for that matter. It's really yummy over rice, though it's wonderful on it's own too. :)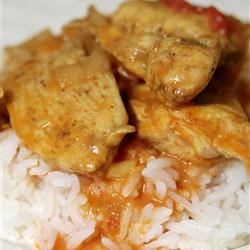 Dessert - Coconut Cake With Mango Sauce
Ingredients: Cake:
5 eggs, separated, with yolks and whites in separate mixing bowls
1/2 cup brown sugar
pinch of salt
1/2 cup good-quality oil, like Spectrum's Almond Oil (or use melted butter if you're not worried about fat)
1/4 cup coconut milk
1 cup white flour (or use light spelt for a healthier cake)
2 tsp. baking powder
2 tsp. coconut extract
Ingredients: Sauce/glaze:
2 mangos, cut into small cubes (or 1 1/2 cups frozen cubed mango)
1/2 can coconut milk
1/4-1/3 cup of brown sugar (depending on how sweet you like it)
1 tsp. coconut extract
Ingredients: Topping:
1/2 cup dried baking coconut, unsweetened
Directions:
1. Grease an angel food cake pan (or two round cake pans) and preheat the oven to 350 degrees.
2. Separate the eggs, placing yolks in one bowl and whites in another.
3. Beat the egg whites with an electric mixer at high speed until they resemble whipped cream (about 3 minutes). Set aside until later.
4. Add the sugar, salt, oil and coconut milk to the yolks. Beat or stir well to mix in.
5. Add the flour and baking powder. (
Tip
: mix the baking powder into the flour while it's still in the measuring cup so it gets distributed better). Beat or stir just until you get a good consistency (don't over-beat). Now add the coconut extract.
6. Lastly, fold in the egg whites. You can use your electric beater again at this stage, but only briefly - enough to incorporate the egg whites. I find it best to simply fold the cloud-like egg whites in with a spoon until they're well distributed. Don't over-mix.
7. Bake at 350 degrees for 30 minutes, or until the top of the cake is golden brown and an inserted fork comes out clean.
8. To make the sauce: Place all sauce ingredients in a blender or food processor. Process well, until sauce is smooth, or has just a few small chunks of fresh mango, as desired. Do a taste test for sweetness, adding more sugar according to your taste.
9. Place this sauce in a sauce pan, and heat it up. If you prefer a thicker sauce, you can add a little arrowroot powder or cornstarch dissolved in a few tablespoons of water (cook until sauce thickens, but not too long or you will lose the fresh flavor).
10. To make toasted coconut: Place coconut in a dry frying pan. Turn heat on high or medium-high. Stir coconut constantly, until it has toasted to a light golden brown and smells fragrant. Tip coconut into a bowl (otherwise it will keep on browning in the hot pan).
11.
TO SERVE:
Cut pieces of the cake and place on dessert plates. Pour the warm mango sauce overtop. Finish with a sprinkling of toasted coconut, and voila!
Here's a tropical treat that looks and tastes like heaven! If you like mango and coconut, even though this recipe is a bit more work then what I usually put up, it's absolutely amazing. The flavours also go rather nicely with the lemon soda! :)